The backsplash is the easiest way to transform your kitchen from a mundane space into something dramatic, that impresses and captivates. The easiest way to add personality to your kitchen is to opt for a backsplash remodel.
Traditionally, most people cover the backsplash with the same tiles used in the rest of the kitchen. But if you're looking for innovative ideas to make the backsplash stand out and be the focal point of the kitchen, then you've got to think beyond the ordinary.
When it comes to redesigning your kitchen backsplash – you've got plenty of options. You can go for bright, contrast colours, exaggerated textures, and even different materials to make it unique. There are plenty of ways to upgrade your backsplash. However, remember that the backsplash design you choose must also be functional apart from being aesthetically pleasing.
After all, the backsplash is the space in your kitchen that attracts the most spills and stains. So, you need to look for materials that are easy to clean and maintain. This is why most people opt of ceramic and porcelain tiles for the backsplash.
Easy to maintain, available in an endless array of colours and textures, and inexpensive – ceramic and porcelain tiles are the best option for your kitchen backsplash.
Looking for inspiration to create unique and interesting kitchen backsplashes? Take a look at the following ideas!
A Medley of Colours and Designs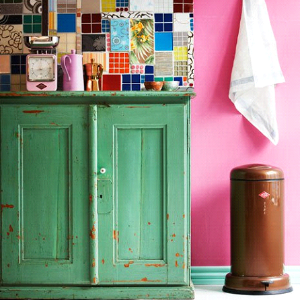 Use ceramic or porcelain tiles in different colours and patterns to create a unique, and interesting backsplash.
Mosaic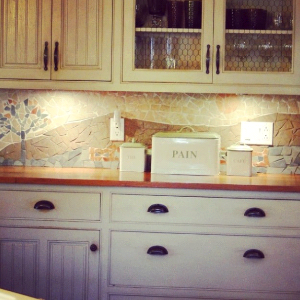 Create a mosaic pattern, by breaking up regular tiles into small pieces. Then arrange the broken pieces randomly to create a mosaic pattern.
You can use a single-coloured tile or opt for different colours. The choice is yours.
Pebble Backsplash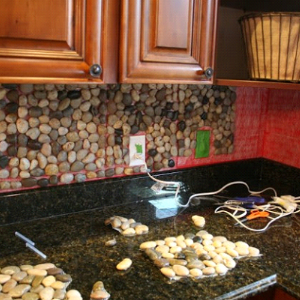 This is a great option if you're into DIY. All you need are a bunch of pebbles and other random rocks from your garden. Stick them together onto a canvas and then paste the canvas on your backsplash. While this looks pretty, it's quite difficult to maintain. The crevices between the stones attract dirt and dust, making it difficult to clean. If you rarely use your kitchen or looking to create a showpiece kitchen, then this option may work for you.
Map Backsplash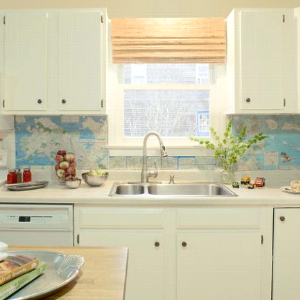 Do you love travelling? Visiting new places? Are you always dreaming about exotic travel adventures? Then, this is the perfect way to show off your personality. And, it's quite inexpensive. All you need is a high-quality world map, and you're good to go. However, one minor drawback with this backsplash is that you may have to replace it frequently. As paper maps don't do well to scrubbing and cleaning. Alternatively, you can opt for a plastic map.
Herringbone Backsplash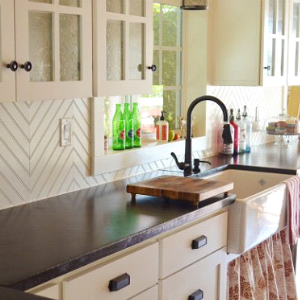 Instead, of arranging your wall tiles regularly, you can lay them in a herringbone pattern for an interesting effect.
Simple yet elegant, this style is timeless and gives a rustic cottage feel to your kitchen.
Subway Tile Backsplash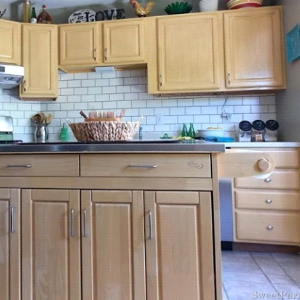 This is a perfect fit for modern, contemporary kitchens. The playful vibe of the subway tiles adds charm to the space. You can either opt for light coloured tiles as shown in the picture or use darker tiles. The choice is yours. Alternatively, you can add in a few contrasting coloured tiles randomly to create an interesting effect.
Small Tiles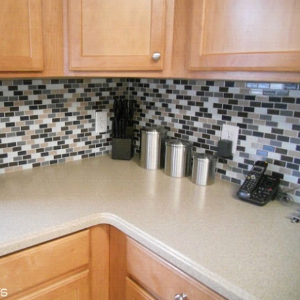 This creates an interesting and unique effect. Generally, when people consider backsplash, big tiles are what come to mind.
You can create an interesting space just by altering the size of the tiles. By using small tiles, you add to the depth of the space.
Stone Backsplash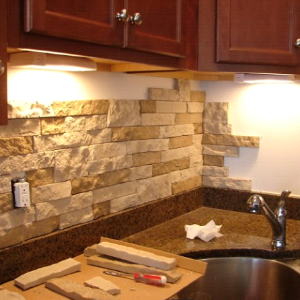 Natural stone makes for a great backsplash material. Durable and long-lasting, this one will last for years.
And, natural stone has a timeless appeal that never goes out of style.
Regular Wallpaper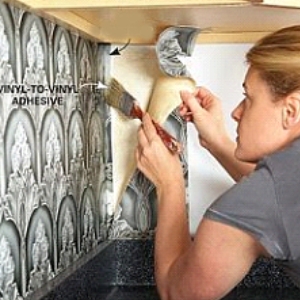 This is an inexpensive option. However, you'll have to replace it often. You can pick any regular wallpaper available in your local hardware store.
Solid colours, prints, patterns, abstract designs – the choices are endless.
3D Effect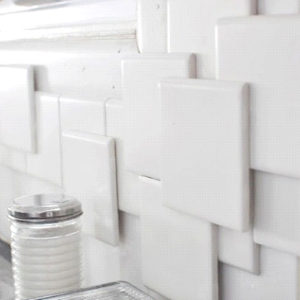 This is an innovative and creative idea. You can create a 3D effect for your backsplash by laying tiles on top of one another.
What's your Favourite? Do you have any other creative ideas for kitchen backsplashes? Let us know in the comments below. And, for the best porcelain and ceramic tiles for your kitchen, get in touch with our friendly sales representatives.