Tiles are no longer used only for floorings and kitchen backsplashes. Here are some cool ideas on how to include pretty porcelain and ceramic tiles in your modern home!
Tiles are one of the most versatile home decor materials. They work well on floors, walls and even as decor. Whether you're considering a small-budget bathroom renovation or planning a large-scale home renovation, here are a few creative ways to use tiles to add functionality and aesthetic appeal to your interiors.
#1: Create an Accent Wall using Funky Geometrical Pattern Tiles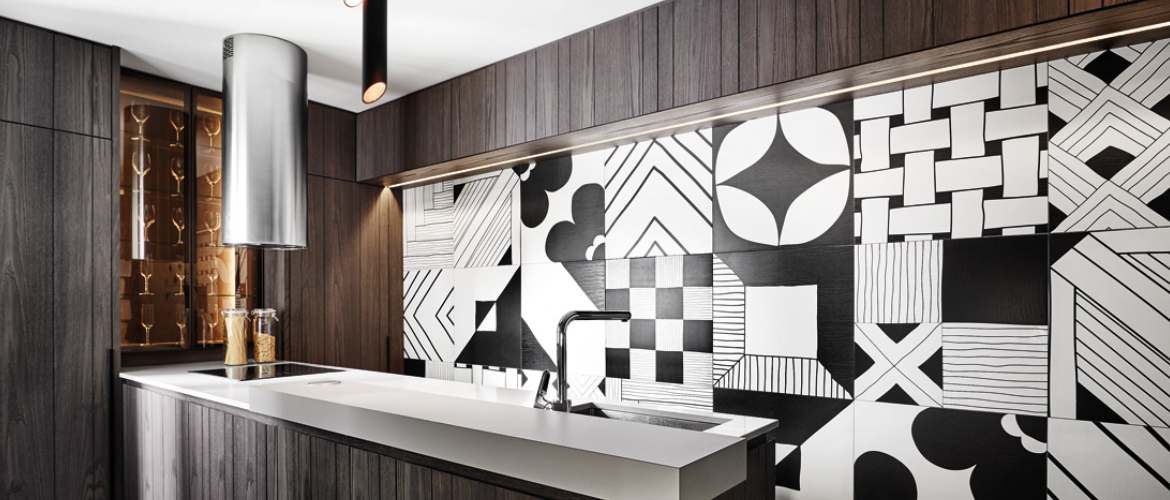 Image Courtesy: LookBoxLiving
Forget wallpaper and paint! Instead, take the unconventional route of using ceramic and porcelain tiles to add dimension, texture and colour to your walls. Using funky geometric patterns and retro designs is a great way to create unique accent walls in your living rooms.
Regardless of the tile pattern or designs you use, using tiles for an accent wall will help you infuse your personality to your rooms. It's a great way to steal the spotlight and create a striking impression. As the leading geometrical shape ceramic porcelain tiles suppliers in India, we have an array of designs, patterns and colours to suit your interior themes. Get in touch with our team for our latest product catalogue.
#2: Use Tiles to Highlight Staircases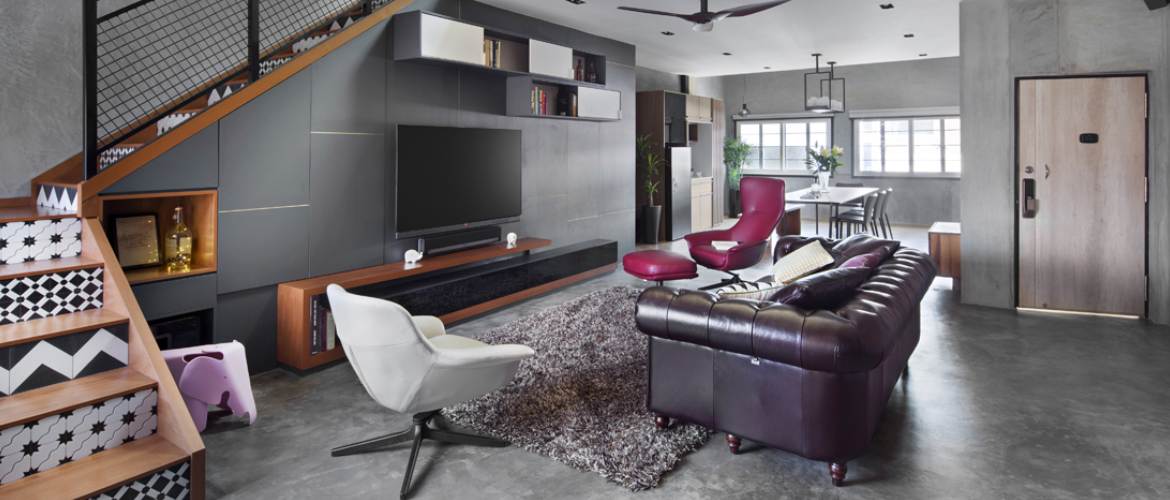 Image Courtesy: LookBoxLiving
If you have a home with a ground level and upper level, then this design inspiration is just for you. A staircase is a crucial element of any home, yet sadly not much thought is put into its design. Stair risers are the distance between one stair and another. You can use leftover tiles from your home renovation project to highlight stair risers and give it a unique flair.
Alternatively, you can use ceramic porcelain borders listellos to decorate the stairs. Listellos are a special type of decorative style used on borders. They are intricately designed and lend a unique style and personality to your home.
#3: Add Texture to your Headboards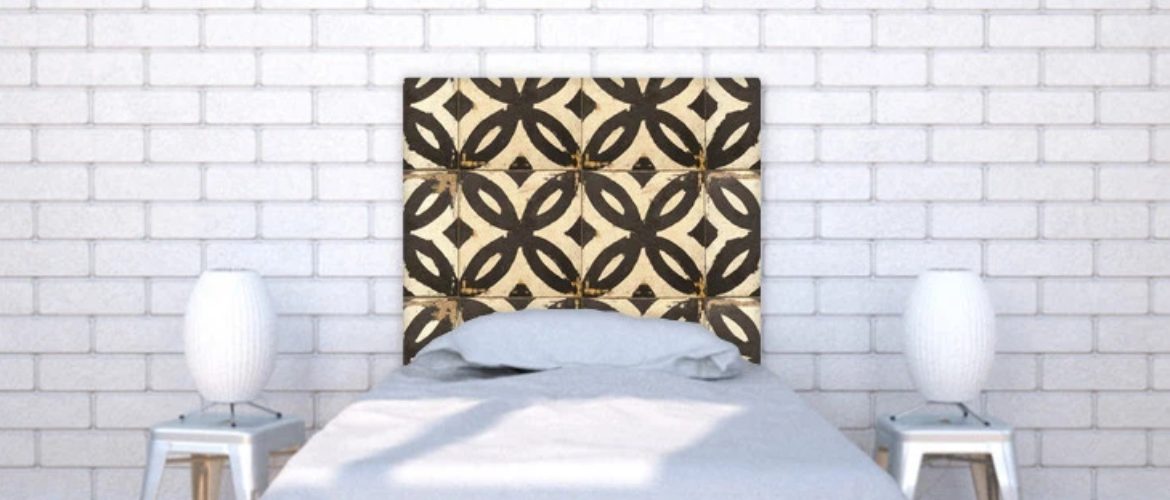 Image Courtesy: NOYO Home
Do you have an old, wooden, upholstered headboard? Swap it out with a tiled headboard to elevate the look of your bedroom. One huge advantage of using tiled headboards is that they are easy to maintain. Unlike fabric, tiles do not collect dust thereby making them easy to clean.
#4: Use Tiles to Demarcate Space on your Floors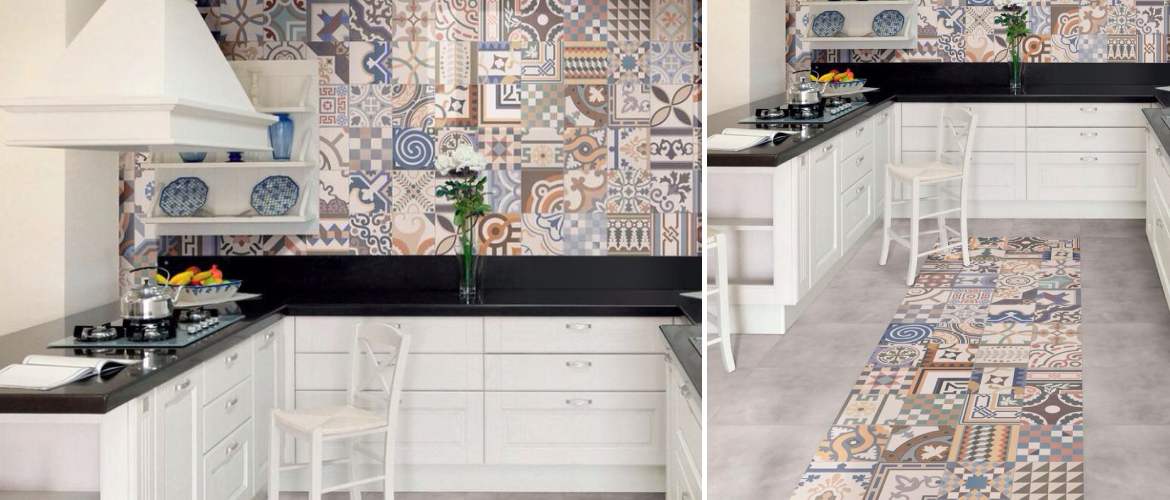 Image Courtesy: Moregeous
Generally, interior decorators recommend using area rugs to clearly define a space and to inject colour into your rooms. However, the huge drawback of rugs is that they are difficult to wash and clean. It's prone to spills and dusts.
You can overcome these drawbacks by using tiles in place of area rugs. The Porcelain vitrified terracotta tiles in this picture function like an area rug, creating a separate area in the kitchen beautifully. Another huge benefit of using tile flooring is that should you spill liquids, foods on your kitchen floor, all you have to do is a quick wipe and your floors look good as new.
#5: Pretty Up a Kitchen Island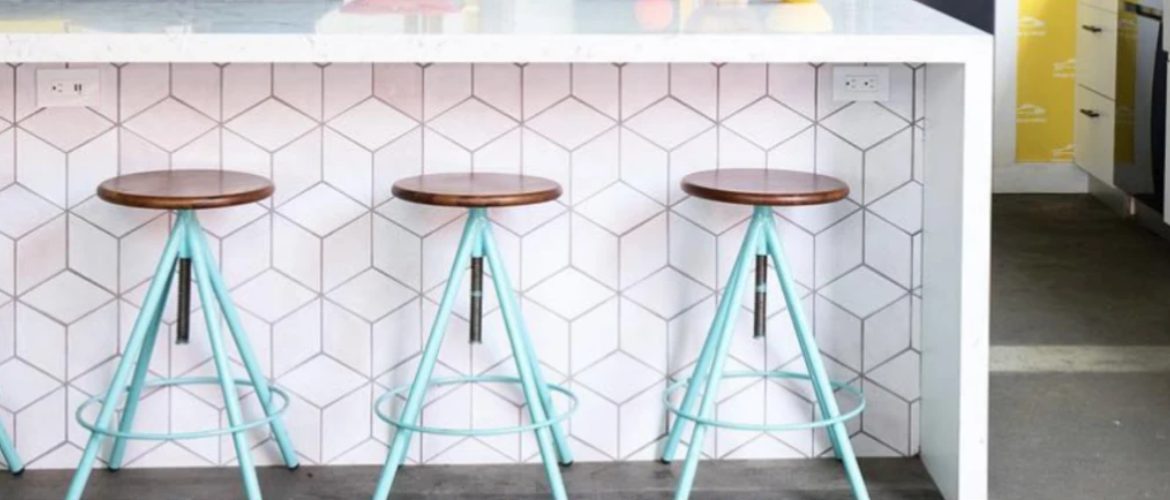 Image Courtesy: Mercury Mosaics
A kitchen island is a great addition to any kitchen. It provides you with extra counter space and an informal space to enjoy meals with the family. While most homeowners decorate the top of the kitchen island with beautiful granite, they overlook the base of the island. A pocket-friendly way to jazz up your kitchen island is to clad the bottom with colourful and patterned ceramic or porcelain tiles. This is a great way to make the kitchen island the star of your kitchen, especially when you have an open living space.
#6: Line the Ceiling with Pretty Tiles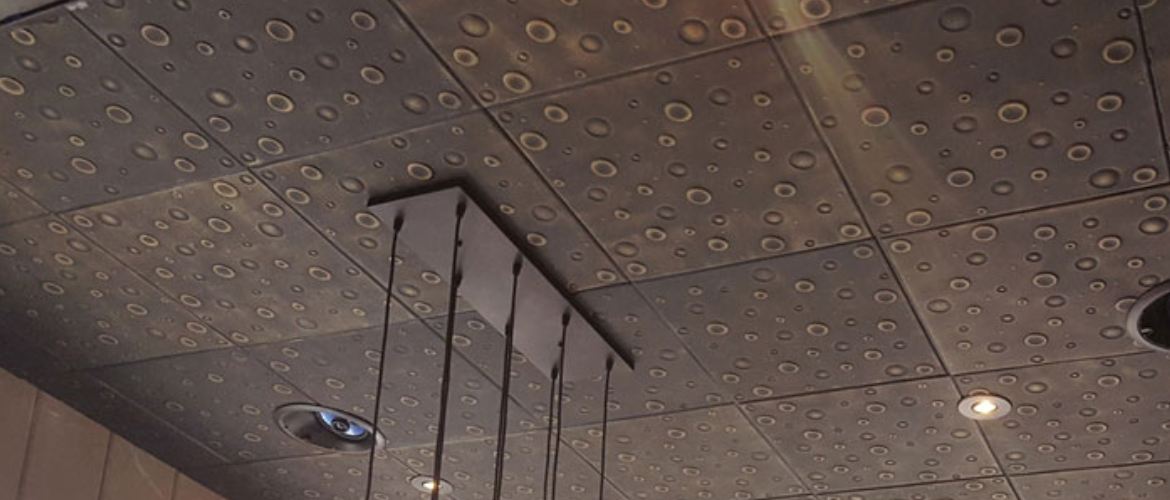 Image Courtesy: Decorative Ceiling Tiles
The majority of homeowners leave the ceilings empty with just a coat of white paint. A few paint the ceilings a different colour. However, if you're feeling bold and would love to experiment, then you can opt to tile your ceiling. Tiles on the entire ceiling or just a part of it adds a whole world of difference to the space, especially when light bounces off it. It can make your rooms appear bigger and elegant.
#7: Tile the Shower Area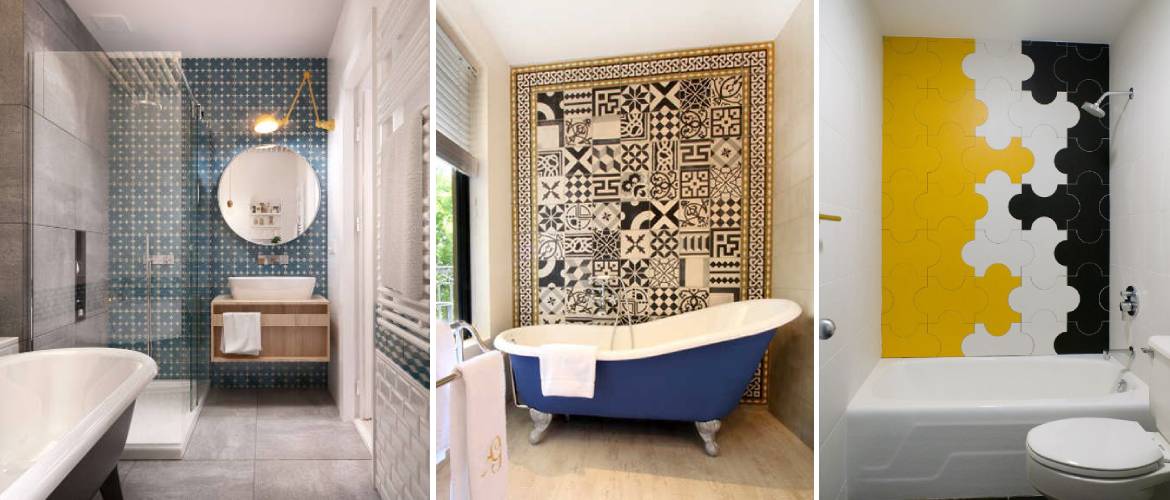 Image Courtesy: Atticmag
Tiles are a great addition to the bathroom – easy to clean and non-porous, they not only make your bathroom functional but also aesthetically appealing. You can cover the wall behind the bathtub with tile to add a spa-like feel to your bathroom. Or, you can cover the floors and walls of the shower area in a different tile to create a special enclave to bathe and relax.
When it comes to ceramic and porcelain tiles, there's no limit on how to use it. So, get creative and use these versatile building material in your contemporary home to make it attractive and functional. Get in touch with our team to check our extensive product catalogue and pick the best ceramic and porcelain tiles in India at the most competitive pricing.
Which of these seven design ideas appeal to you? Let us know your thoughts in the comments below!