Are you renovating your home? Are you searching for the best tiles for your floors and walls? Before you go tile shopping, you need to understand the differences between ceramic and porcelain – the two major tile categories.
While porcelain and ceramic tiles may feel similar – they are two distinct categories. As the leading porcelain and ceramic tiles suppliers in Morbi India, we know our tiles quite well. Here, in this guide, we show you the differences between these two tiles, so that you can pick the right one for your home based on their features, pros and cons.
First, What's the Big Difference?
The big difference between ceramic and porcelain tiles is the rate of water absorption. Porcelain tiles are non-porous, meaning they absorb very less water. On the other hand, ceramic tiles and other non-porcelain tiles absorb more water.
Wondering why porcelain tiles absorb less water than ceramic tiles? The answer is in how porcelain tiles are made. This is because porcelain tiles are made using denser clay that is less porous. On the other hand, ceramic tiles are made of lighter clay, thereby it can absorb more water.
Now, that you have the basic difference, let's turn our attention to the construction process:
Ceramic Tiles – Construction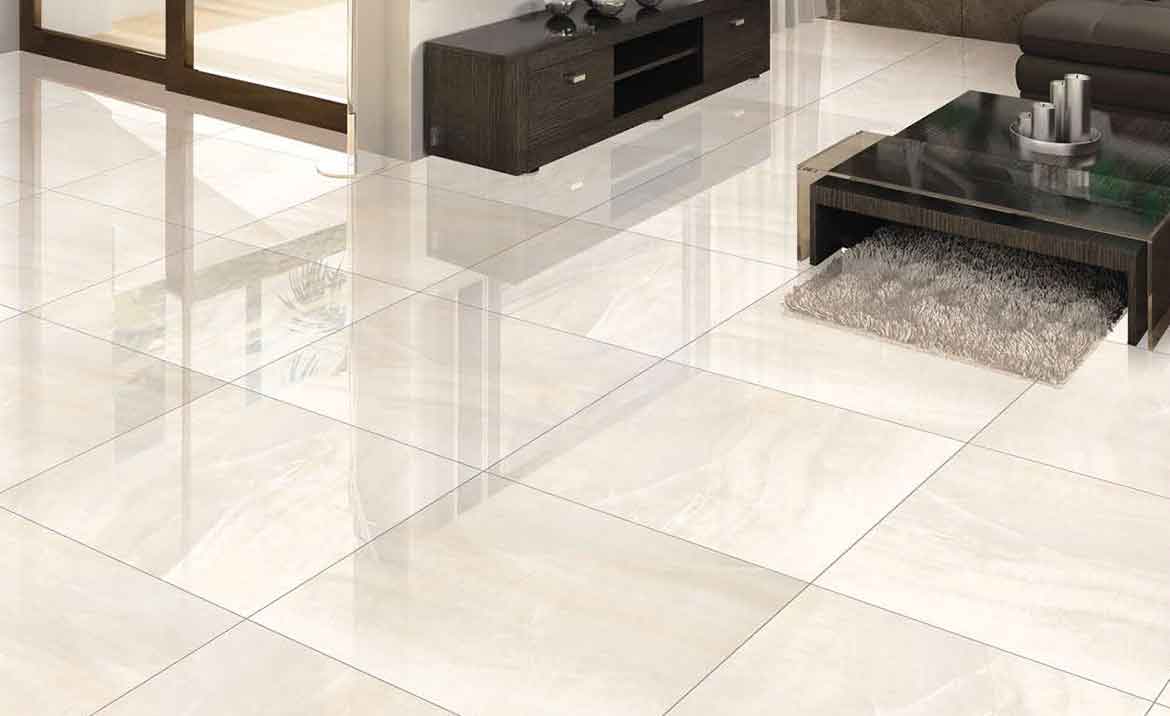 Ceramic tiles are made using natural clay – brown, red or white. The clay is fired to a high temperature, which reduces the water content of the clay. This is followed by glazing – this is the process where the pattern is applied. Voila, your ceramic tiles are ready.
Porcelain Tiles – Construction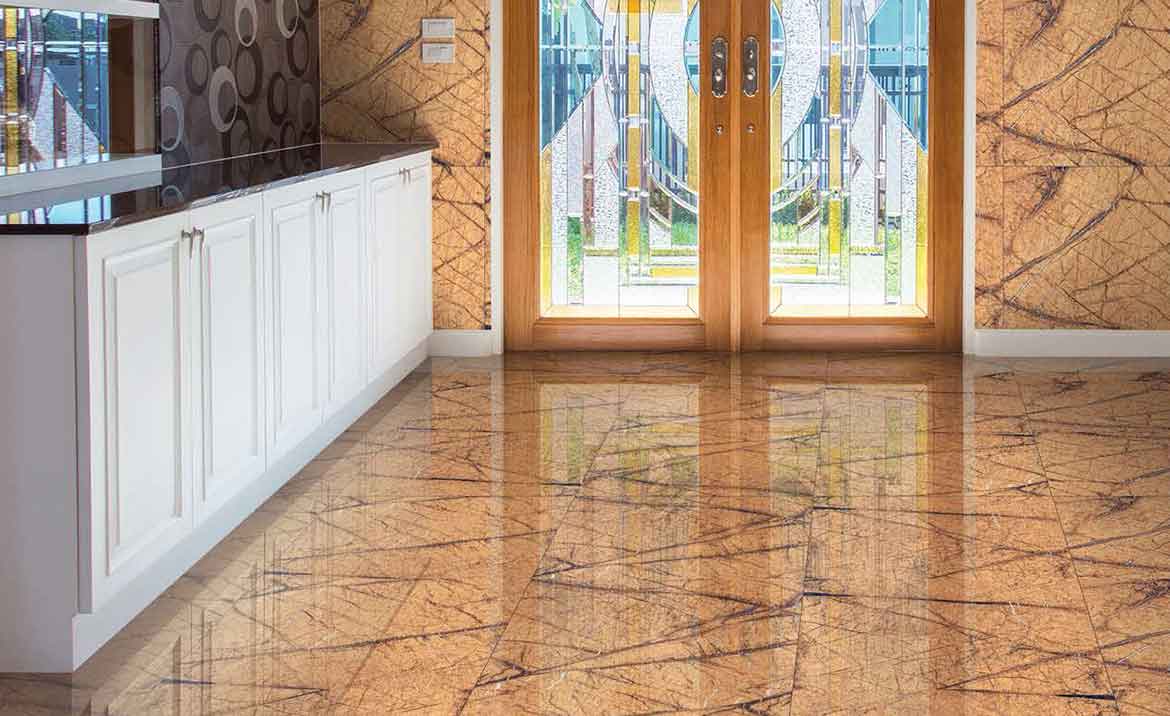 A Quick Comparison of Porcelain Tiles vs. Ceramic Tiles
Features
Porcelain Tiles
Ceramic Tiles
Construction
It is made with feldspar, fine sand and white clay
It is made with red, brown or white clay
Manufacturing Temperature
Very high temperatures
Low compared to porcelain tiles
Structure
• Absorbs less water
• Long-lasting
• Easy to use
• Available in a wider range of designs
Cons
• Brittle
• Limited designs
• Is prone to cracking in cold weather
Applications – Best Suited For
• Floors
• Commercial properties like retail outlets, offices, hotels, etc
• Can be used on walls depending on the weight of the tile
• Areas that see plenty of footfall
• Floors and walls
• Homes
• Interiors of homes
• Interiors of commercial spaces
• Areas with low foot traffic
Price
Expensive compared to ceramic tiles, but long-lasting
Cheaper than porcelain tiles
Ease of Cutting
A bit difficult to shape and cut
Easy to cut and shape, due to its soft nature
Where can it be used?
Both Interiors and Exteriors
Interiors only
Now, coming to the big question,
Which Tiles should I Use – Porcelain or Ceramic?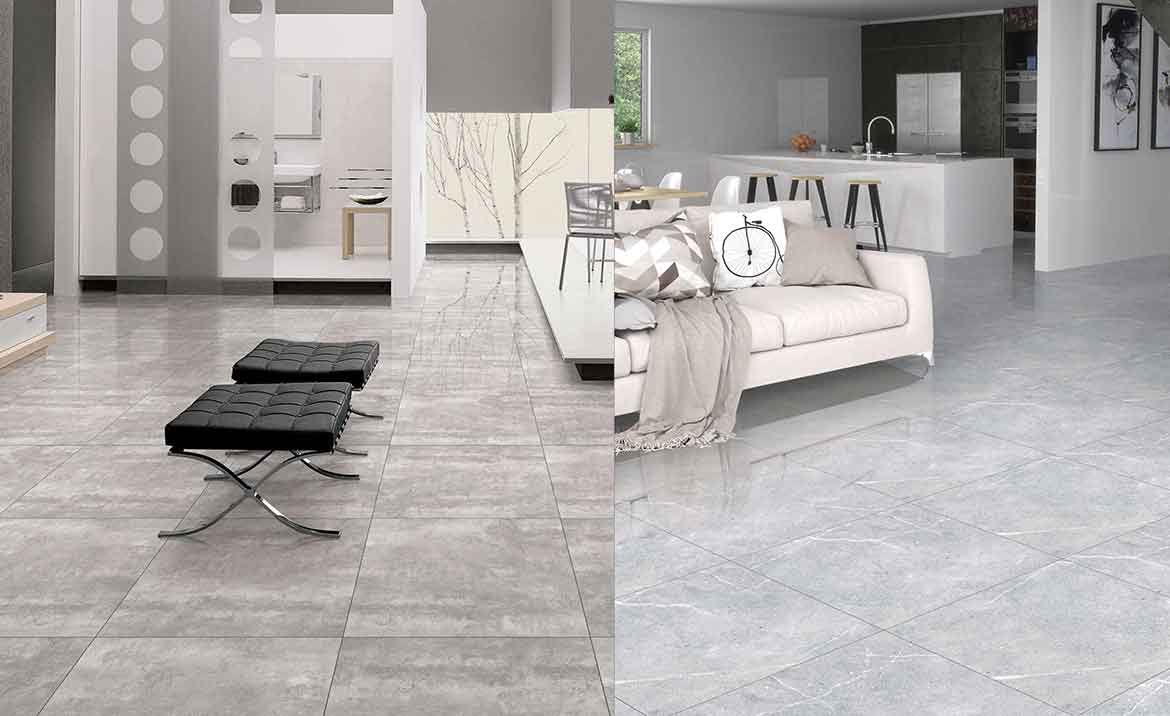 There's no single answer. Porcelain tiles work well for some, while others may prefer ceramic tiles. Here, we compare these two tiles based on several features, helping you make the right choice.
#1: Cost
Winner: Ceramic Tiles
Ceramic tiles are cheaper when compared to porcelain tiles, and hence more cost-effective. If you are looking for tiling your floors and walls at a budget, ceramic tiles are the best option.
#2: Durability
Winner: Porcelain Tiles
Porcelain tiles are far denser than ceramic tiles. And, as mentioned above, they are less porous. The result – porcelain tiles absorb less water and last longer. This makes them ideal for areas that attract high footfall and prone to heavy usage.
If you're looking for tiles that last for years to come, then porcelain is the right choice. That doesn't mean ceramic tiles break easily. No! They last well but not as long as porcelain. One big advantage of ceramic tiles is that since they are less dense, it's easy to cut and shape them.
#3: PEI Ratings
The PEI (Porcelain Enamel Institute) rating is an international standard given to porcelain tiles. Based on the rating number, you can choose which tiles to use for various purposes.
According to PEI, tiles are rated on a scale from 0-5 depending on the hardness of the tile:
PEI 0 – No foot traffic – wall tiles.
PEI 1 – Very light traffic – bathroom floor tiles.
PEI 2 – Light traffic – bedrooms and bathrooms.
PEI 3 – Moderate traffic – living room floors and other common domestic areas.
PEI 4 – Heavy traffic – common domestic floors and commercial areas.
PEI 5 – Very heavy traffic – commercial floors.
Most ceramic tiles have a PEI rating from 3 to 4, while porcelain tiles have a PEI rating from 3 to 5.
Now, let's answer some common,
FAQs on Porcelain and Ceramic Tiles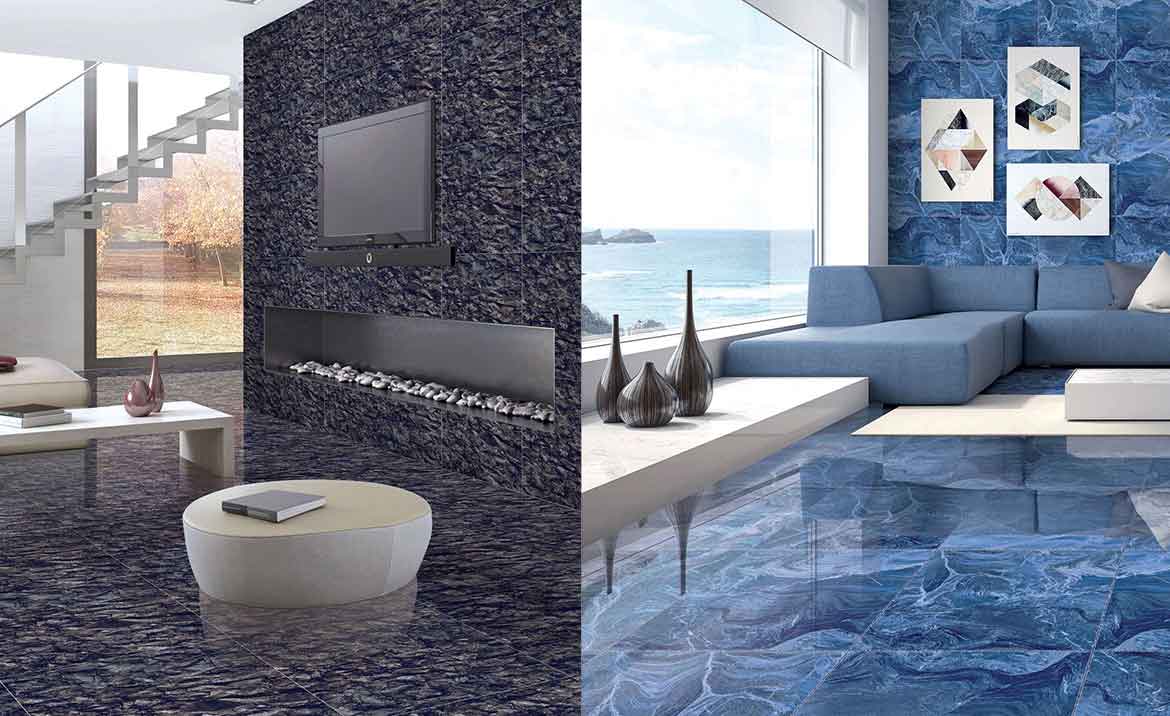 1. Which Tiles should I use for bathrooms?
Porcelain tiles are the better choice for wet bathrooms. This is because these tiles are nearly waterproof and do not absorb water, making them the right choice for bathrooms and showers. Dry areas of the bathroom like underneath vanity counters and sinks, can be lined with ceramic tiles.
Handy tip: For bathroom tile selection: Look for tile with anti-slip properties to avoid trips and falls in bathrooms.
2. I have a tight budget. Which tiles should I pick?
If you have a low budget, then ceramic tiles are the better choice. Just because you have low budgets, it doesn't mean that you need to compromise on looks. Ceramic tiles are available in a wide range of styles and patterns, suited for all themes. You can easily find the right style of ceramic tile that fits your budget.
3. Which tile should I use for areas with heavy footfall?
The durability of porcelain tiles makes them an ideal choice for rooms that attract heavy footfall like entryways, hallways, kitchens, corridors, commercial and retail outlets, living rooms and more.
4. I am planning to do the installation on my own. Which tiles should I choose?
Ceramic tiles are easier to cut and shape, making them an ideal choice for DIY projects.
5. Which tile should I use for outdoor areas?
Porcelain tiles are much suited for exterior applications since it has high water resistance. Also, ceramic tiles are prone to chipping and cracking in cold weather.
We hope this guide clears all your doubts regarding the two common types of tiles. And, to purchase tiles at the most affordable prices, reach out to Décor Cera, the leading ceramic and porcelain tiles suppliers in Morbi, India.
Enhance the luxury of your bathroom with our Modern Copper Bathtubs