Home sweet home; it's where our heart lies, irrespective of where ever we go. Our home is a definition of our style. Special care must be taken before choosing the floor and wall tiles, as it will reflect your style and your unique character.
There are many factors that need to be considered while choosing tiles and layouts. Here in this guide, we offer valuable tips that will ensure that you make the best choice for your home.
Tile considerations 101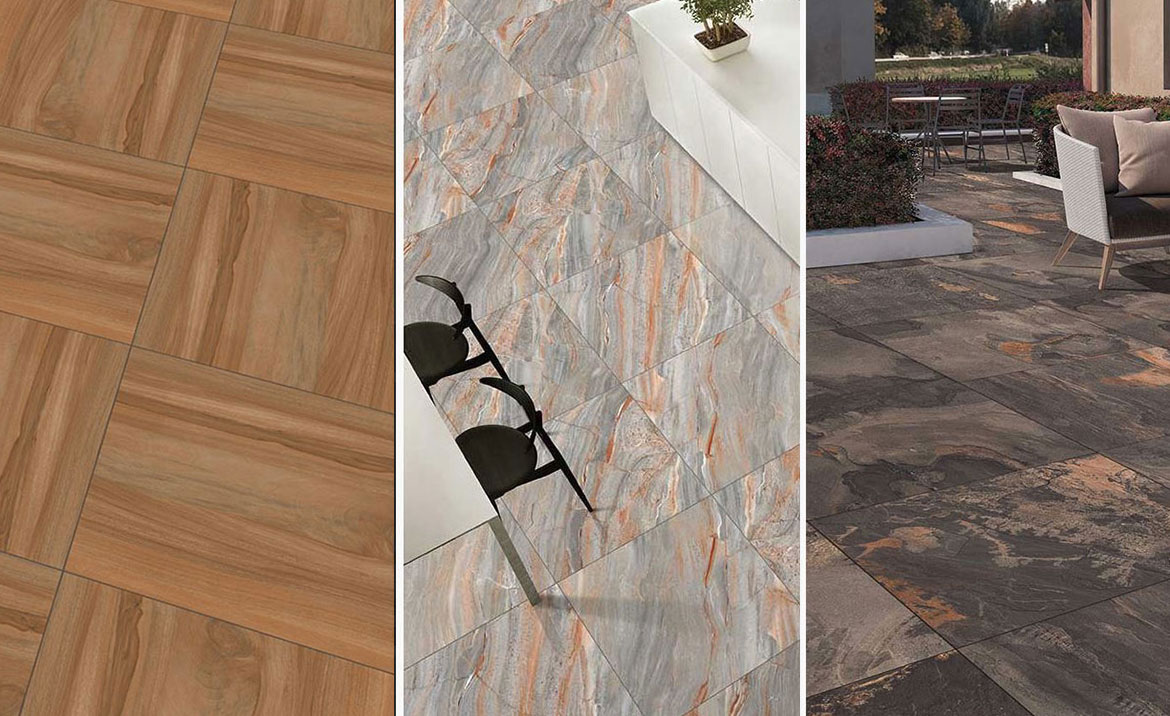 Most of you would have come across a stunning variety of choices available in a tile shop. Colours, printed, glazed, non-glazed, vitrified, polished, matte – the choices are sure to make one feel confused and overwhelming. You can narrow these choices after reading the guide.
Picture the whole space in your mind
While looking for tiles for home imagine the finished space in your mind. Ask yourself these questions - will the tiles be utilized for the floor or walls? While it go with the wall color? Will there be exposure to sunlight, moisture, dirt? Will the tiles go with my décor?
Finding answers to all these questions will give you an idea about the selection of tiles. You can also refer lifestyle magazines and look online for images to get a better idea. This also gives you an idea about the latest trends in the market and also introduces you to the reputed brands and dealers in the market.
The colour of the tile plays a significant role in changing the look and feel of the room. For example, if you want the room to feel pleasing and warm, you can choose sun-kissed shades like yellow, oranges, burnt reds, tans, etc. While light colours make the room appear more spacious, dark colours are easy to maintain.
If you want to effortlessly make a statement choose neutral colors, which are easiest to integrate into any décor.
Another cool trick is to mix and match two different shades of color. This gives a pleasant view to the eyes as the darker shade adds depth while the light one adds some lustre and shine to the combination.
Space is also a crucial point in choosing the color. If you are looking for tiles for the bathroom, light colours are ideal as they reflect light creating an airy spacious feel. If it's for the kitchen, you can go with warm or cool kitchen tiles. Make sure to check our gallery for a wide range of tiles.
The size of the tile has huge impact on the room. Small tiles make a room feel intimate and cosy while larger tiles give the room an expansive feel. Both wall and floor tiles are available in a wide range of sizes. Some popular sizes of floor tiles include 300x600mm, 600x600mm, 610x610mm, and 800x800mm, while wall tiles come in sizes of 250x350mm and 300x600mm.
Always opt for a size that gives minimum wastage to save money.
Nowadays tiles are available in a wide range of patterns and textures. These tiles can add a sense of style and fun to the room, but adding too much of patterns can also take away the elegance of the room.
Textured or matte tiles are less slippery. They are the best option for kitchens, bathrooms or any other areas where there is a high chance of moisture. We give you some of the most unique textures and patterns for your home.
Make sure to use grouts that are similar to the colour of the tiles. The grout lines should be fine and thin, making it less visible as possible. Make sure the spacing between tiles is at a minimum for a sharp look. If you want a dramatic look, you can use contrast grout color. This makes your floor to stand out. Make sure that you select a stain-proof grout to keep the floors clean.
Maintenance and durability
Most people don't like spending their weekends cleaning and scrubbing the floors. You can save your weekends by choosing a low maintenance floor tiles like matte finish or ceramic and porcelain tiles. Polished glazed vitrified and matt tiles are one of the most durable tiles available in the market. They are perfect for floors as they are long-lasting.
Remember there are plenty of companies and individuals who are experts in this field and available in your locality. Make sure to conduct a thorough research before selecting your expert to enjoy stunning results and bring the real beauty of tiles. Always keep in mind that your home should be a bundle of happiness and warmness, not regret.
Layout Options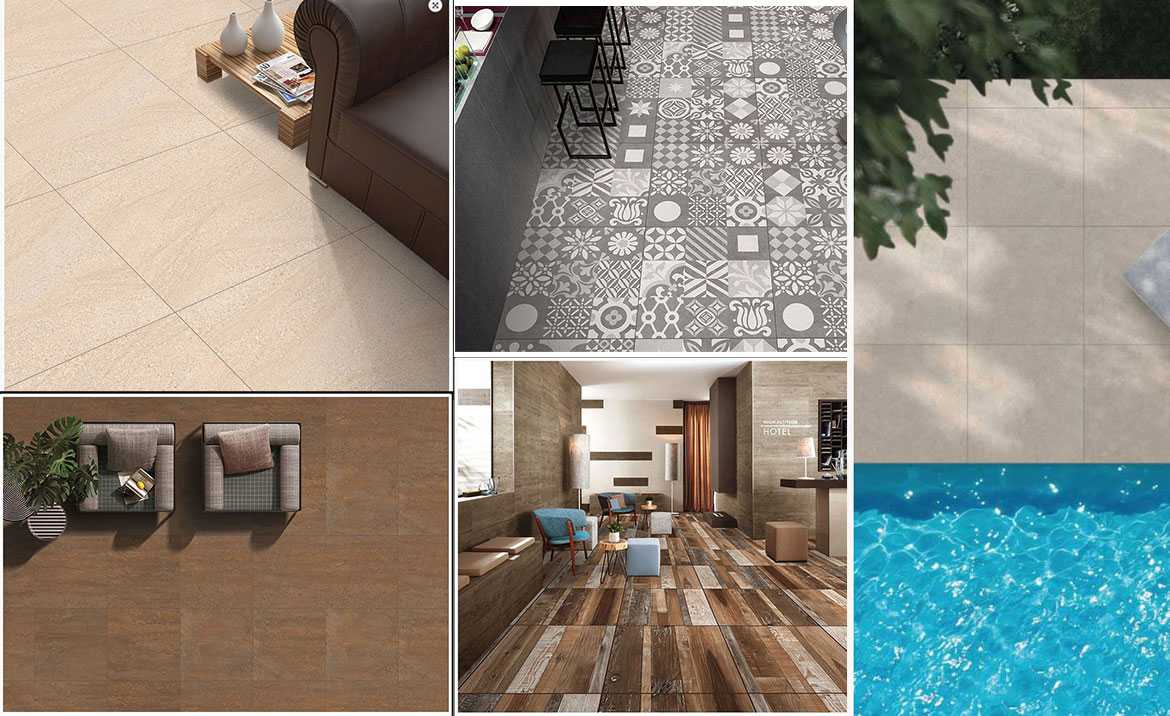 You are just halfway through the process of installing tiles. Tile layout is as important as choosing the tiles. Similar to tile selection, you a have a bunch of options to choose from, let's see some of them:
Square set or grid pattern
The most common and easiest tile layout is laying tiles in a grid. In this you, since you don't have to cut the tiles, it reduces the overall cost. The main problem is this pattern can look boring when used on a plain tile.
The key to this pattern is to make sure you don't have slivers (thinly cut tiles), this can give an unprofessional look to the flooring. This layout is most commonly seen in the bathroom and kitchen.
It's a layout technique, where any pattern can be turned at an angle to instantly create a dynamic look to the flooring. This layout makes a small room look bigger. If this layout is used for walls, the imperfections in the wall will be hidden.
This layout is mostly preferred for subway-style tiles. Here one row is differentiated from the next row the width of half a tile. The Classic brick style makes a room appear wider and is the most popular choice for kitchens and bathrooms.
This layout is mostly preferred for subway-style tiles. Here one row is differentiated from the next row the width of half a tile. The Classic brick style makes a room appear wider and is the most popular choice for kitchens and bathrooms.
The layout pinwheel is simpler than it looks. You just need rectangle and square tiles of different sizes. Align these on one side and repeat. It gives a dynamic rich look. Use two sizes of the same product for a subtle look and contrasting color for a decorative effect.
For Herringbone pattern, simply take any rectangular tiles to turn so that the two are perpendicular to each other, align them along one side and repeat. Create an L-shape with your two tiles, and these will nestle next to each other for a simple repeating pattern. This layout is most commonly seen in walls rather than on the floor.
It's one of the trickier layouts. Unless your tile is specifically cut to create a chevron, it's not possible to create this layout. This is layout is time-consuming and also expensive. Though they are expensive and time-consuming, they look the most beautiful rich.
It is becoming incredibly popular to take tiles with liner look or long shape and create a woven appearance. The layout has two horizontal and two vertical tiles each to form a square. The tiles are installed in reverse.
Choosing a tile solely based on appearance can have some disadvantages in the long run. Choosing a modern cost-effective tile layout is also as important. You need to approach logically to make sure you make the right choice.
Decorecera is one the reputed companies in tile manufacturing with an experience of over 30 years offering a wide range of tiles from matte finish tiles to polished glazed vitrified tiles in India. We cater for all your tile requirements from initial design ideas to maintenance advice of the product.
You can view our e-catalog and contact us at pm@decorcera.com.